DPM Fadillah: Sabah, Sarawak to prepare for border development, examine small business possibilities with Nusantara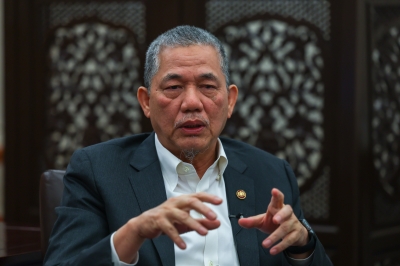 KUALA LUMPUR, Feb 27 — The shifting of Indonesia's money to Kalimantan, neighbouring Sabah and Sarawak, will have to have both of those areas to put together by themselves, specifically in the progress of borders and discovering bilateral company-to-small business (B2B) opportunities.
Deputy Primary Minister Datuk Seri Fadillah Yusof said border developments they intend to emphasis on contain upgrading the Customs, Immigration and Quarantine (CIQ) complexes alongside the key border between Sabah, Sarawak and Kalimantan, next the establishment and construction of Nusantara, Indonesia's new money city in Kalimantan Timur.
"Development of towns alongside the Kalimantan, Sabah and Sarawak will need to be sped up, specifically for the CIQ advancements, roads major to CIQs along the most important border amongst Sabah, Sarawak and Kalimantan," he explained in a new unique job interview with Bernama.
The Finance Ministry had beforehand accredited an supplemental RM1 billion for upgrading assignments and to build far better infrastructure together the 1,881-kilometre border separating Sarawak and Sabah from Kalimantan, Indonesia.
Fadillah, who is also Plantations and Commodities Minister, explained other aspects of concentration consist of exploring B2B possibilities and cross-border economic interactions that can fulfil the requirements of equally countries.
Fadillah cited Sarawak as an illustration, expressing that thanks to great relations, the region had exported electricity to West Kalimantan due to the fact quite a few yrs ago, and was provided the opportunity to build a hydroelectric dam in the country.
"Indonesia desires to have hydropower, 4 dams in Kalimantan and a single packages has been agreed to be supplied to Sarawak. Sarawak Electricity will be the implementor as they have expertise in making 4 hydroelectric dams in Sarawak," he claimed.
He extra that he experienced focused on discussions about possibilities to faucet the upstream and downstream market, especially for the palm oil sector, in the course of his current pay a visit to to Indonesia, the largest producer of palm oil in the globe.
"Kalimantan has the most plantations due to its huge land mass, so the opportunities will not be just downstream but upstream, and how we can improve bilateral ties in this context, including logistics. This is a little something we're discussing with Indonesia now," he reported.
Meanwhile, he reported Malaysia and Indonesia could jointly plan to establish a railway network at the border of Sarawak and Kalimantan to transport goods from Kalimantan to Bintulu and utilise its port facilities.
"Maybe the federal government could support the Sarawak government in negotiating with Indonesia to put together a railway line to transport products from Kalimantan to Bintulu Port.
"The sea route is rather considerably, so this will support Indonesia in exporting as Kalimantan has many sources, so if we can tap them… we can establish them together with Indonesia," he additional. — Bernama