Top 10 Tips for Group Discussion for Interview Success in 2023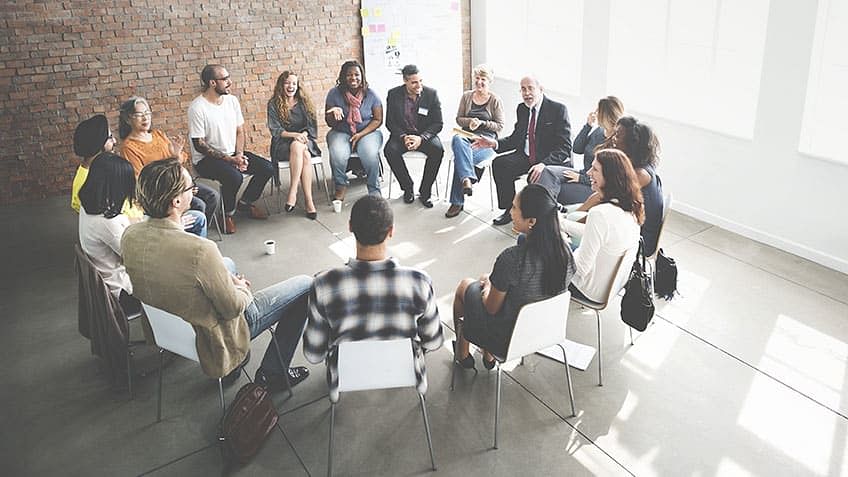 The Group Discussion, commonly referred to as GD, is a crucial elimination round in an interview process that candidates need to be a part of after clearing their aptitude test or the written exam.
A vital component in any screening process, GD involves the participation of a group of people who are asked to debate and discuss different aspects of a topic given by the interviewers.
Regardless of whether you are looking at getting into a top-notch college or applying for a job, the group discussion round is something that you will have to face in order to get one step closer to realizing your dream.
Although many candidates freeze at the thought of how they will present themselves in a group discussion, in reality, the group discussion round is not as dreaded as it seems if you master the tried and tested tricks that help crack GDs.
Master group discussions with these tips and accelerate your career. Check the video for easy to implement tricks.
In this article, we share with you some practical tips and strategies that will set you up for success in group discussions. But before we get into that, let's help you understand why the GD round is so essential.
The group discussion round is critical because it allows interviewers to analyze candidates on a variety of parameters, including their level of confidence, teamwork qualities, communication, leadership, analytical, and logical skills.
So, now that you know what GD is and why it is important from an interviewer's perspective check out the top eight tips for group discussion below that you should definitely apply in your next interview.
1. Awareness of Topics Relating to Your Background Is Crucial
Experts advise that you research popular topics related to your field before taking part in a group discussion. While it is not possible to keep track of all topics under the sun, you should nevertheless have a clear understanding of matters that are closely linked to your educational or professional background.
Besides having fair knowledge of the core subjects in your domain, you must also be well-versed in some common group discussion topics that relate to today's social and economic environment, emerging technologies, or current affairs. 
Here are a few group discussion topics that you should consider reviewing:
From the ongoing global pandemic to well-known case studies, controversial to general topics, the subject matter of group discussions can be diverse. In addition to preparing for topics that pertain to your profile, if you research some common GD topics, such as the ones mentioned above, you can face the group discussion round with confidence.
Keep in mind that having basic knowledge about the subject of discussion is important, but what's even more important is how you convey your understanding of the subject to the interviewers and other members of the group discussion. Therefore, prior to appearing for your GD, make sure you work on your presentation skills.
2. Take the Lead
The right time to initiate a conversation is paramount in a group discussion. Some people believe that speaking first helps grab the attention of the interviewer, but that is not always the case because it can backfire as well. 
You can speak first if you have valuable information or statistics that are relevant to the topic, but otherwise, it is advisable to speak during intervals in between conversations. 
If you are uncertain or confused about the subject of the discussion, listen to other participants, and then rephrase your response accordingly.
3. There Is No Place for Aggression in Group Discussions
During the course of a group discussion, be aware of what you say and how you say it. You will find many participants in a group discussion with views that differ from your own. You must respect their opinions and communicate your perspective assertively, not aggressively. 
Remember, at no time should you get angry and yell. Controlling your emotions and staying calm will make you look more confident. 
Below are some phrases you can use to express your opinion in a gracious manner.
If you do not agree with someone, you can say – "I respect your viewpoint, but I disagree. I hold a completely different opinion."
When you agree with someone, you can use the phrase – "I am in agreement with you; I also have the same point of view."
Other than the above two scenarios, you could be in situations where you partially disagree with someone. In such situations, say something like – "I agree with you to some extent, but I do not fully support your position."
If you need to intervene at some point, do so by saying – "I am sorry, I would like to interrupt you there".
To contribute to an ongoing discussion, you may say – "Apart from that, I wish to add …"
The use of appropriate phrases, such as those mentioned above, illustrates your willingness to accept other viewpoints while you stand by yours.
Remember that the purpose of group discussions is to evaluate a candidate's personality, behavior, and interpersonal skills. Thus, it is important to remain positive and confident throughout the GD session.
4. Communicate Effectively
What matters in a group discussion is how well you present your views and how convincing your arguments are to the interviewers and other group members. It is crucial to speak with absolute clarity, not only to get your point across but also to leave a positive impression through your speech. 
To improve your vocal clarity, check out some simple exercises on YouTube that will enable you to deliver a clearer speech. 
Another point to keep in mind is to not sit back after making your opening comment. Make an entry into the discussion whenever you think it is appropriate to do so, using the phrases in the previous section.
5. Listen Carefully, Do Not Just Hear
Listening skills are vital in a group discussion. Listening not just helps understand the topic of discussion, but it is also an indication of how respectful you are.
Listen carefully when others are speaking, and then frame your response. Also, nod your head and make brief eye contact with the speakers. This shows that you are actively taking part in the discussion. 
All good speakers are great listeners, and to be successful in group discussions, you must likewise develop superb listening skills.
6. Work On Your Body Language
Body language is a form of non-verbal communication. It is gaining more and more prominence in recent times as it plays a critical role in defining an individual's personality, level of confidence, and leadership qualities. 
Be aware that everything you do, from entering the room to the way you speak, sit, and react, will be monitored. So dress professionally, sit up straight, keep your cool, and never appear tense. 
YouTube has many videos on body language. Watch some of these videos to perfect the art of manipulating your audience with body language.
7. Avoid Deviating From the Topic
To avoid straying from the topic, try to limit your attention to the content of your speech rather than its length. If the discussion drifts off-topic, make an effort to bring the discussion back on track. Attempting to keep the group on the subject will demonstrate your leadership skills to the interviewers.
8. Be the First to Summarize the Discussion
Summarizing the whole group discussion and highlighting the most important points will enable you to capture the attention of the interviewers. Keep your summary relevant and short. In addition, make sure to present an impartial summary, not a biased one.
9. Don't Be Aggressive
Many times participants in the Group Discussion present their ideas in an aggressive manner to create an impact on the group. What they don't know is that shouting and being aggressive can get them negative points. 
10. Don't Give Up 
The last group discussion tip is to make multiple entries in your session. You can enter the discussion multiple times if you have a strong answer to other participant's opinions. This will strengthen your viewpoint. 
10 Roles in a Group Discussion
GD is a collaborative discussion that involves a group of people. Participants play a role in these discussions. Your GD role can impact your chances of getting selected. Choose your role smartly. 
Opener – The candidate who initiates the group discussion is an opener or a beginner. As they go first, there is very little time for them to prepare their arguments. Volunteer for this position only if you know the topic well. 
Facilitator / Moderator – A facilitator or moderator ensures that no participant is getting interrupted while making arguments. They also make sure participants are following the rules properly. 
Seeker of Information – These group discussion participants are not aware of the topic and look for arguments in statements made by others. 
Opinion Seeker – This person has no stand, they look for an opportunity to accumulate information and create an opinion. 
Analyst – They analyses and clarifies the arguments and opinions discussed during the group discussion. 
Community Supporter – These individuals in a group discussion do not have any strong opinion. They support everyone in the discussion.  
Reliever –  They witness the problem with a broader perspective. 
Energy spreader –  These group discussion participants are active and indirectly motivate others to speak up. 
Bridge creator – They concentrate on coming to a common ground and find an optimum solution to the given problem. 
Summary maker – This GD participant is responsible for concluding the discussion. 
Researching different topics for group discussions, improving your communication skills, and having mock GDs with your friends and family will increase your chances of being selected, but to seal the deal, consider getting yourself certified from an industry-recognized institution, such as Simplilearn.
The world's #1 online Bootcamp and certification course provider, Simplilearn, has introduced a SkillUp program that is helping thousands of people achieve their dreams. No matter what your stream is, with Simplilearn's SkillUp program, you can master today's most sought-after skills without paying a cent.
Employees from leading corporations, such as Bosch, PepsiCo, Inc., Citibank, Dell, Microsoft, Amazon, and VMware, have enrolled with Simplilearn for skill-based learning. Where are you? Enroll now to explore free resources that you can access anytime, anywhere.
FAQs
Q1. How to introduce yourself in a GD? 
You can use these lines to introduce yourself – 
Hi everyone, I am _____  and I would like to introduce the topic of this group discussion. 
Hello everyone, my name is ____ and I will be initiating the group discussion. I would like to ask a question from all of you. [Add a question here relevant to the topic]
Q2. What makes a group discussion successful?
A successful group discussion is the one where participants are free to express their ideas and thoughts. Along with that, participants are also sensitive towards ideas proposed by other participants. 
Q3. How to improve group discussion skills?
You can enhance your group discussion by improving some basic skills, that are –
Let your appearance talk
Know the topic
Be the first to get off the blocks
Be a good listener 
Be clear on your points 
Remember, it's not an argument
Move to a conclusion.